---
HICKORY, N.C. – The Lenoir-Rhyne University A Cappella Choir and Brass Ensemble will tour three cities across North Carolina, March 24-26, 2023, with performances in Lenoir, Cary and Salisbury. The choir and brass ensemble will also participate in Sunday morning worship at Christ the King Lutheran Church in Cary.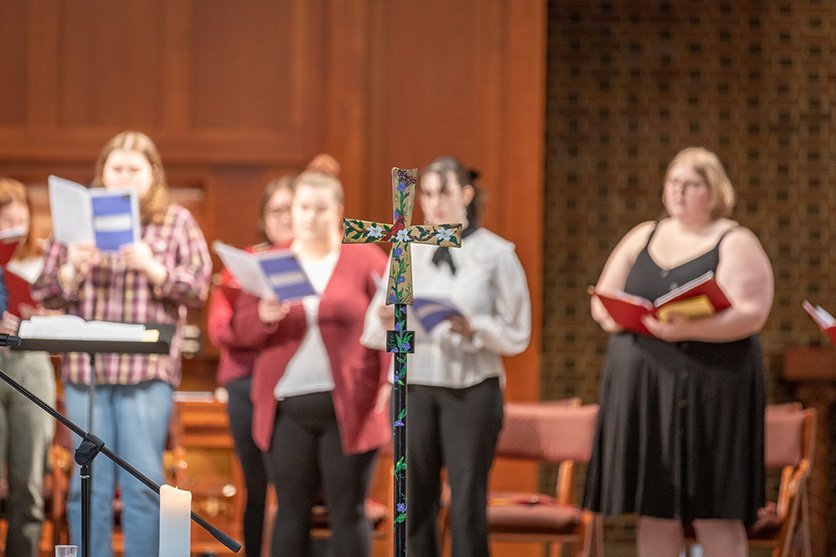 Tour Performance Dates
Friday, March 24, 2023, 7 p.m. – St. Paul AME Church, Lenoir, N.C.
Saturday, March 25, 2023, 7 p.m. –Christ the King Lutheran Church, Cary, N.C.
Sunday, March 26, 2023, 8:30 a.m. & 11 a.m. – Christ the King Lutheran Church, Cary, N.C. (participation in morning worship services)
Sunday, March 26, 2023, 7 p.m. – St. John's Lutheran Church, Salisbury, N.C.
All performances are free and open to the public. The program will feature choral, organ and brass music of a variety of time periods and styles, including recent compositions by Rosephanye Powell, Ysaye Barnwell, Joel Thompson, David Hurd, Karen Marrolli and Paul Mealor. The choir, organ, and brass ensemble will join forces to sing and play Ralph Vaughan Williams' "The Old Hundredth Psalm Tune," which was arranged for the coronation of Queen Elizabeth II in 1953.
Visiting Assistant Professor of Music Ben Still, Ph.D., will perform with the choir on Michael Hassell's arrangement of the beloved hymn "Jesus Loves Me" and Susan Labarr's "For This Joy." Standard A Cappella Choir selections — such as Leland Sateren's "Jerusalem, My Happy Home" and F. Melius Christiansen's "O Day Full of Grace" — will fill out the program.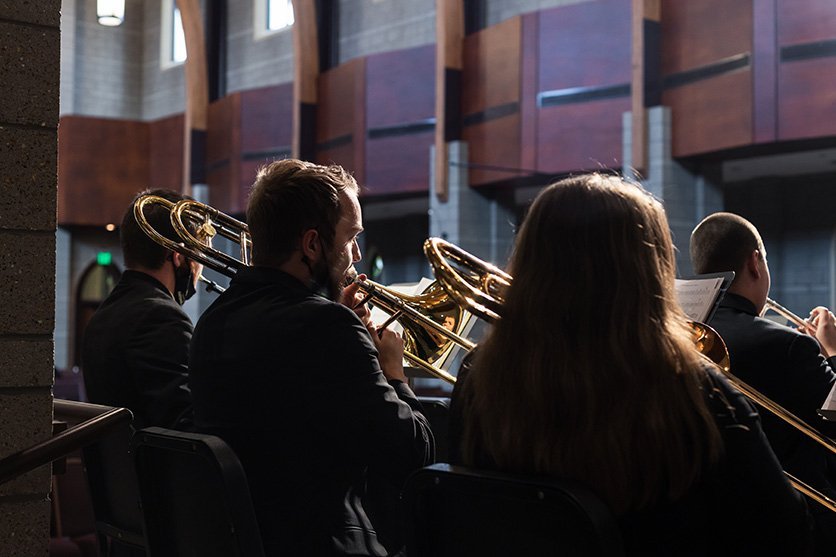 The A Cappella Choir is directed by Ryan Luhrs, Ph.D., and accompanied by Jeana Neal Borman. Christopher Nigrelli, DMA, conducts the LRU Brass Ensemble.
Founded in 1935 by St. Olaf Choir alumnus Kenneth Lee, the Lenoir-Rhyne A Cappella Choir is Lenoir-Rhyne University's flagship choral ensemble. The choir performs frequently, including an annual fall concert, "A Lenoir-Rhyne Christmas" and a spring tour. In May 2019, the choir traveled to Ireland and presented concerts in Galway, Belfast and the Dublin area.
Other recent events include a hymn festival tour and capstone worship event commemorating the 500th anniversary of the Reformation in 2017, a 2018 spring tour to Florida, Georgia and South Carolina, joint performances of Beethoven's Symphony No. 9 in 2018 and Jubilate Deo in 2020 with the Western Piedmont Symphony Orchestra, a 2020 performance with the National Lutheran Choir, and a 2022 fall concert with the Hickory Choral Society. The choir will travel to Spain in May 2023.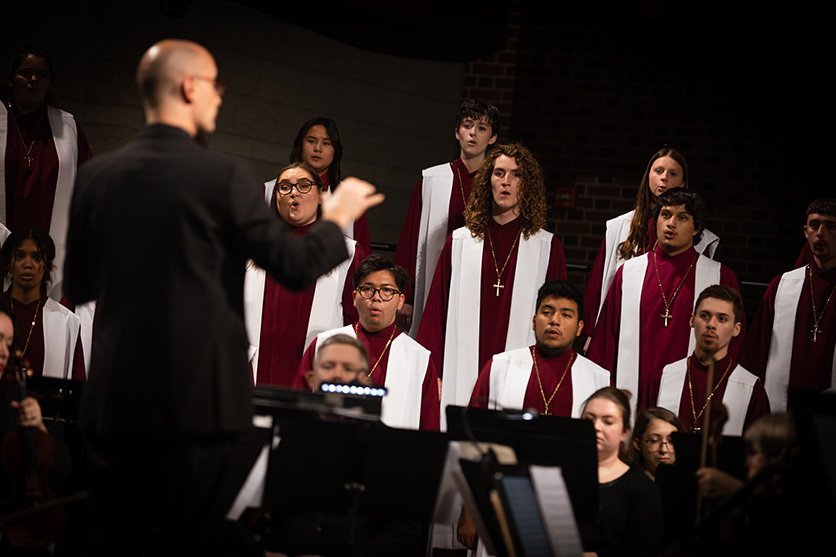 Luhrs began leading the A Cappella Choir in 2016, following the tenures of Paul Weber (1999-2016), E. Ray McNeely (1971-1999) and Kenneth Lee (1935-1971).
For more information, contact Ryan Luhrs, Ph.D., at ryan.luhrs@lr.edu.