500 degrees, distinct awards bestowed at Lenoir-Rhyne spring commencement
---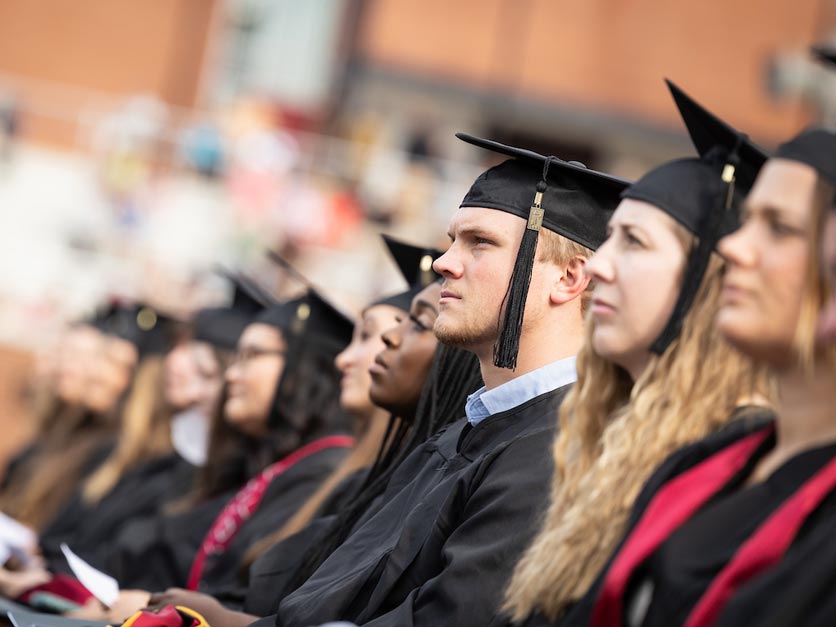 Lenoir-Rhyne University conferred 500 undergraduate and graduate degrees during commencement ceremonies held on the university's three campuses on May 11, 12 and 13.
At the Hickory ceremony on May 12, university president Fred K. Whitt, Ed.D. congratulated the members of the Class of 2023. "We are gathered here this evening in the fulfillment of what is nothing less than a lifetime achievement for many of our students. For some of you, this is the realization of a dream that may have begun for you as a young child. For others it may be a goal you set a little later in life. In either case, commencement represents a significant achievement of years of hard work, dedication, perseverance and sacrifice."
Student speakers offered their own perspectives on their own and their peers' achievements. Djbril Diallo came to LR from Guinea to play basketball, a sport he has loved since middle school. In his time here he earned his undergraduate degree and MBA with a focus on global business and met his wife. He offered a simple but powerful challenge for his classmates.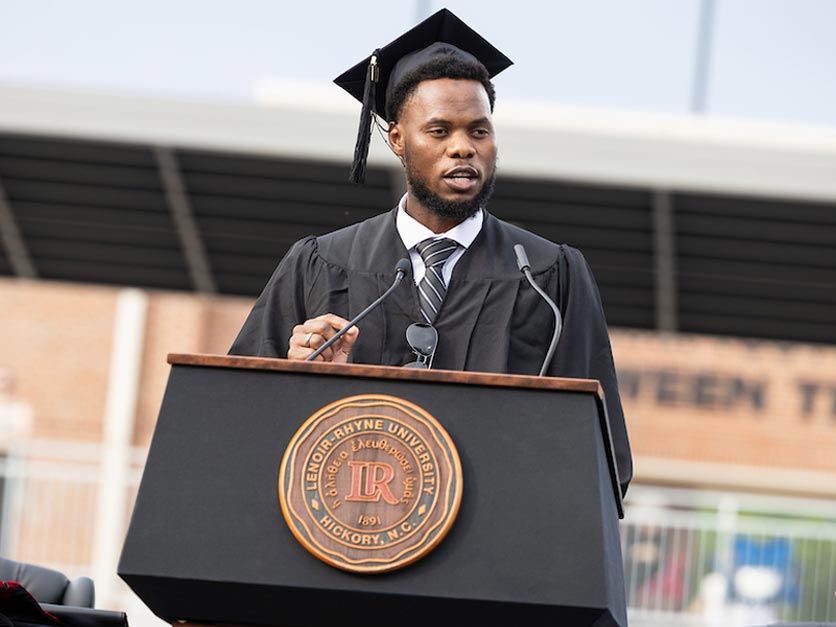 "Do one good deed daily for yourself or others without expecting anything in return. The challenge could be to make your bed every morning, to smile to others, to greet people, to tell your significant other you love her or him, to call or text your parents once every day, to learn one new thing, to share knowledge, to exercise, to go to bed early and more. It sounds simple enough for anyone, but how many people do you know who willingly do anything without expecting something in return?"
Mita Sudhakar earned a double major in youth and family ministry and psychology. She described the experience of her parents immigrating from India for college and settling in Harrisburg, N.C. She also reflected on her own feelings at leaving home to start college four years ago, though the distance she traveled was much shorter.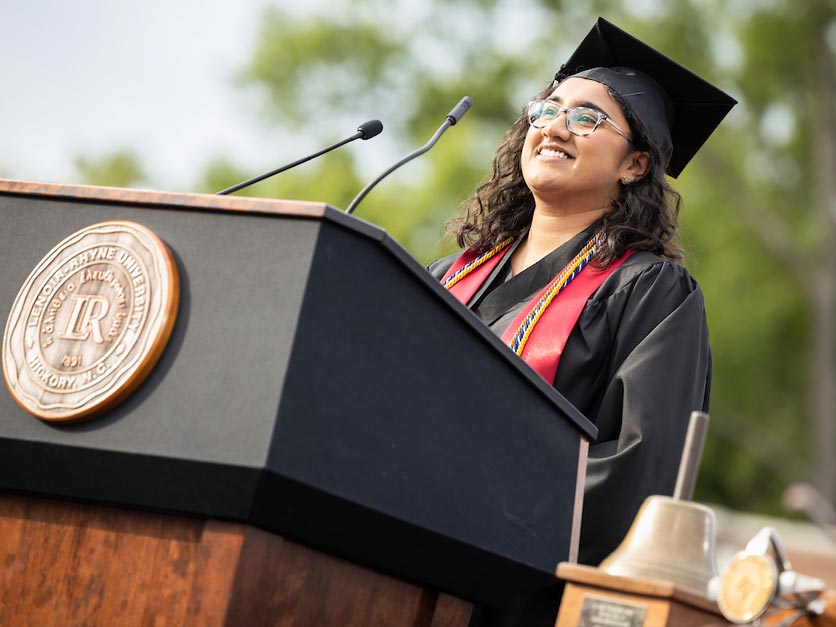 "Looking back, I know that my time at LR has changed me. This place has become a second home for me, and I am humbled by the growth I have experienced spiritually, academically and professionally. However, your four years looked at LR, hold true to what is important to you, to the friendships you formed, the faculty that inspired you, the family that supported you, the faith you might have cultivated and the growth you experienced," she said.
In addition to conferring student degrees, community leaders with extraordinarily accomplished careers were honored at the ceremony in recognition of their longstanding support for the university.
Honorary degree recipients include George Moretz, president of the Moretz Family Foundation, and the Rev. Palmer D. Clemmer, retired parish leader and alumnus. Retired nurse and lifelong advocate of the Lutheran Theological Southern Seminary, Dr. Miriam David-Brown, was presented the Trustee Award.
"As we celebrate our 2023 graduates, we are excited to recognize our honorees for their contributions and outstanding service to not only the university, but also in their respective fields," said University President Dr. Fred Whitt. "Moretz, Clemmer and David-Brown have each dedicated their lives and talents to improving their communities, and for that we honor them."
Honorary Doctor of Humane Letters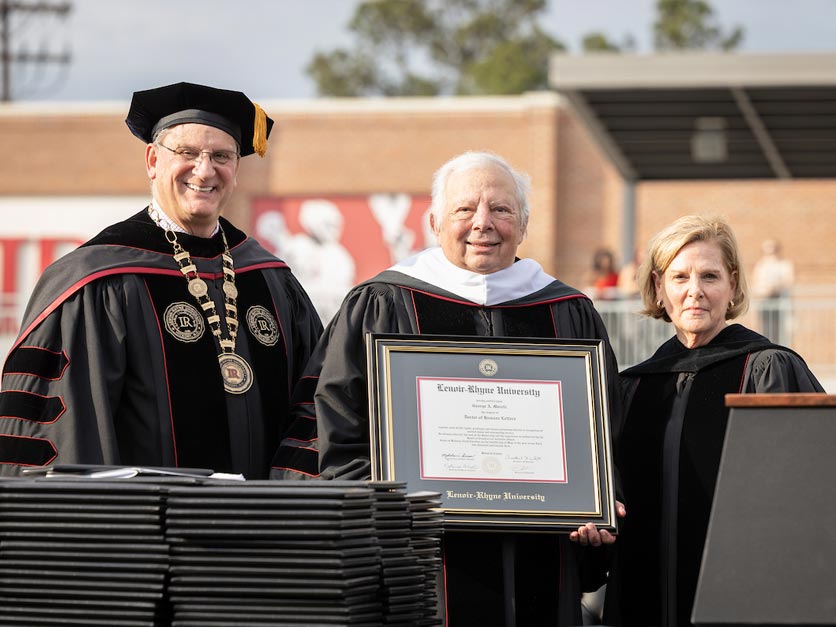 Born and raised in Hickory, N.C., George Moretz graduated from North Carolina State University in 1964 and followed in his family's footsteps by pursuing a career at Carolina Mills Inc. in Maiden, N.C. His fascination with machines led to a 47-year career. Following retirement, he became chairman of the company's board. He recently decided to step down from that position but still serves on the board. Moretz is also president of the Moretz Family Foundation, which was established by his parents, Helen and Leonard Moretz. The foundation has supported many organizations throughout the years, including the Children's Advocacy and Protection Center of Catawba County, Safe Harbor NC, Habitat for Humanity and the Humane Society of Catawba County.
Moretz served on the Board of Trustees at Lenoir-Rhyne from 1993-2022. He was a faithful member of both the university's Executive Committee and the Promotion and Development Committee. He led the way on the recent renovation of Helen and Leonard Moretz Stadium with the initial large gift to start the project.
Honorary Doctor of Divinity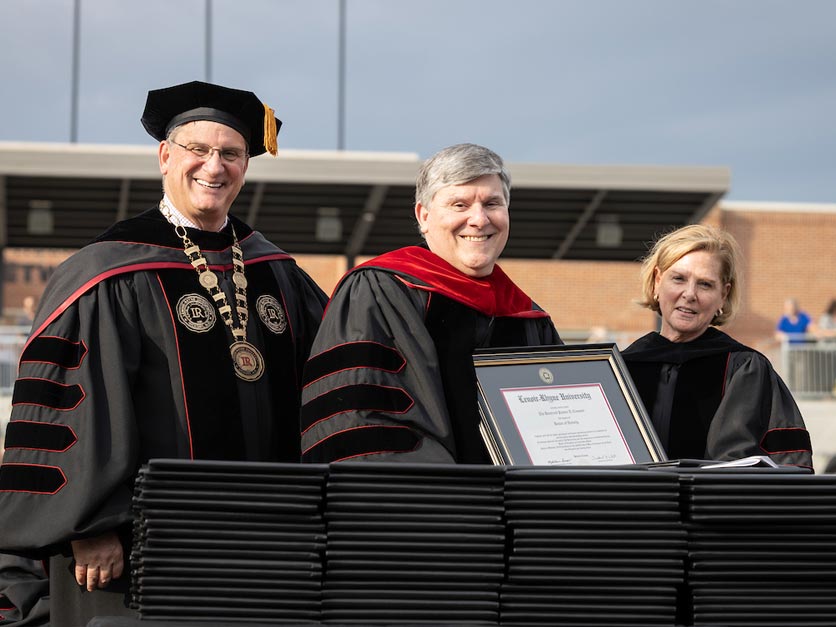 The Rev. Palmer D. Clemmer graduated in 1974 from Lenoir-Rhyne with a degree in sociology before earning his divinity degree at Lutheran Theological Southern Seminary. Ordained by the North Carolina Synod in 1978, he served seven parishes in four states until he retired in 2008. In addition to filling various leadership roles for local ministerial associations and regional capital campaigns, Palmer served on LR's board of trustees.
In 2017, Clemmer was awarded the Trustee Award for noteworthy service to LR, and in 1996, he and his wife Cindi created a scholarship fund in memory of Cindi's parents. The Clemmers have participated in their alma mater's various fundraising efforts, including naming gifts to the science center's renovation, the Neill McGeachy Sports Performance Center, the University Commons and the recently completed Moretz Stadium renovation. When the Clemmers were able, they moved back to the Hickory area and built a home near campus that includes space to house LR students who need economic assistance to stay in school.
Trustee Award
Dr. Miriam David-Brown is a native of St. Louis, Missouri and a lifelong Lutheran. She graduated Magna Cum Laude from the University of Michigan with a bachelor of science in nursing. For 12 years, she worked in the nursing field while simultaneously volunteering with faith-based organizations in Michigan, Missouri and Maryland, all locations where her nursing career and expertise were taking her.
David-Brown served the greater church through her decades-long association with the Lutheran Theological Southern Seminary. Elected to the Seminary's board in 1994 as a representative, she served many years as the vice president of the board and often led orientation for new board members. She greatly valued the work of the Seminary board, as she understood her service as an avenue through which she could actively and faithfully use her gifts to serve the gospel and shape the lives and ministry of others.