---
See what it was like to be a Lenoir-Rhyne football player in the early 1900s. Relive the national championship of 1960. Get to know some of the characters who have suited up for the Bears over the last 10 decades.
Published this month, "Bear Nation: Between the Bricks" is a lavishly illustrated coffee-table book that celebrates 100 years of LR football and was written by experienced writer and archivist David O. Stephens, a member of the Class of 1969.
"LR football is a remarkable story, one that needs to be shared with everyone who is affiliated with the University in any way – students, former players and other alumni, and fans throughout Bear Nation," Stephens said. 
The detailed scrapbook narrative contains more than 250 photographs, as well as artwork and statistics drawn from LR's extensive campus archives. Stephens said the release of the book is a landmark celebration for Lenoir-Rhyne football for two reasons: to recognize former players for their contributions to the university and to celebrate that program that keeps so many alumni engaged with their alma mater.
"For me as an author, the history of LR football was a story that cried out to be told," Stephens said. "Bear football is integral to the history of the university; it is nothing less than a storied legacy, one spanning nearly the entire history of the university, from its earliest years until today. The Bears have won 23 conference championships, and they have played for the national championship four times. For a small Lutheran school which often competes against teams from much larger public universities, this stellar record of achievement is truly amazing." 
In December 2013, while sitting in the airport in Geneva, Switzerland, Stephens had the idea to write "Bear Nation." The Bears had just beaten North Alabama in the playoffs, and suddenly, a national championship seemed like a real possibility. He said he wanted to author the book when the season ended but the demands of his job didn't allow for it.
Finally, in 2019, when the Bears celebrated their 100th season of intercollegiate football and he had reached retirement, Stephens had the time to focus on the book. He conducted dozens of interviews and countless hours of research to create an inclusive and comprehensive history of LR football.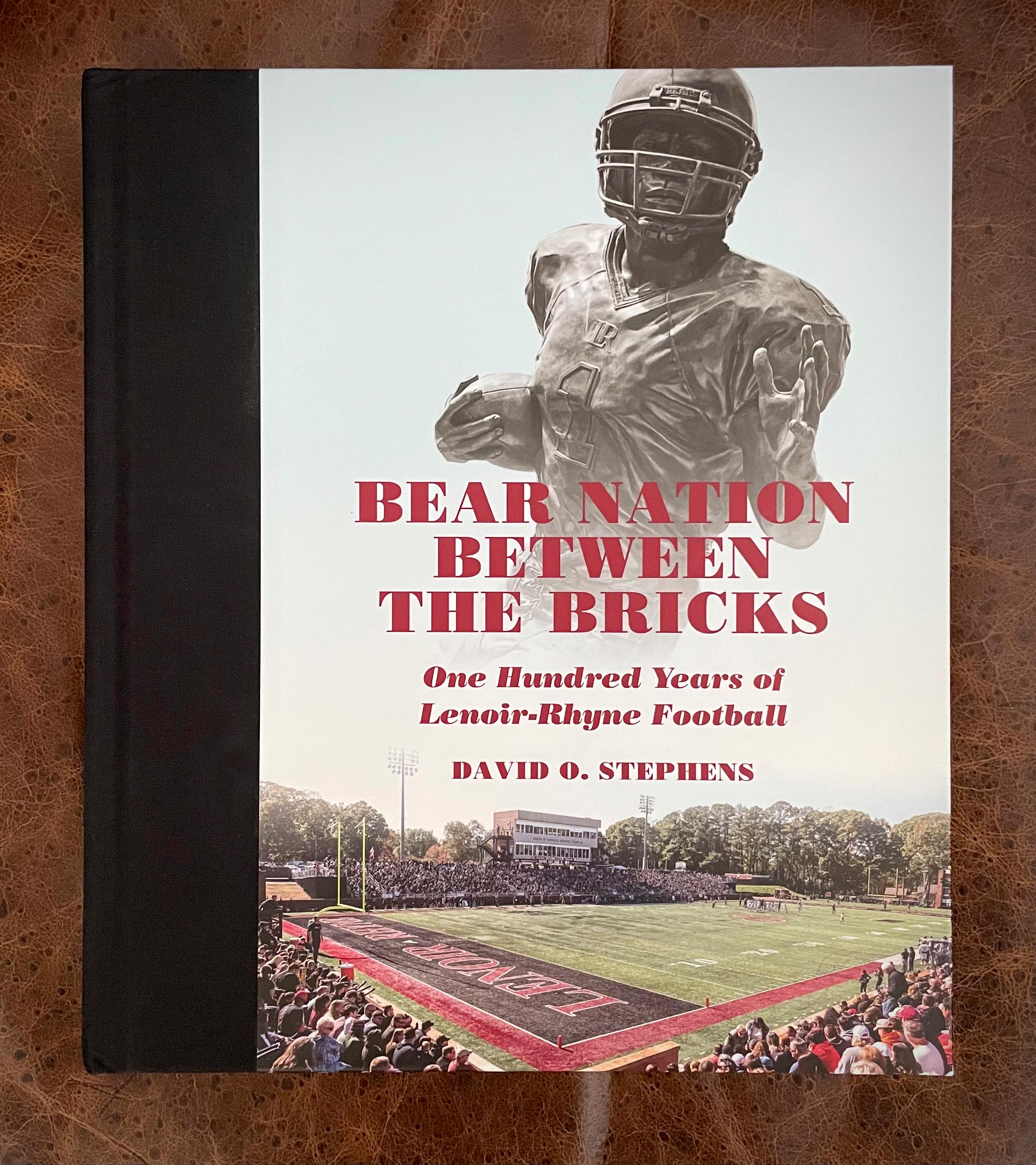 "The research and writing, my conversations with the players, all were thrilling for me," he said. "The book was, for me, a labor of love, and I loved every minute of it." 
The keepsake features narratives from Red and Black game-day experiences, past and present, as well as an in-depth timeline that traces exciting moments in conference history. In addition, readers will relive the exploits of dynamic student-athletes such as Eddie Joyner '68, Jerry Shaw '71, Brian Bryson '88 and Scott Walker '91, as well as innovative coaches such as Clarence Stasavich, Hanley Painter and Mike Houston.
"This book is a love letter to LR football," said Dr. Fred Whitt, president of Lenoir-Rhyne. "We are so grateful to David for his dedication to creating a book that every LR fan will want to read."
Stephens, a student at LR from 1966 to 1969, during the halcyon days of the Painter Era, said the Bears had exceptional football talent. 
"We won the Carolinas Conference championship every year I was at Lenoir-Rhyne," he said. "Game-day Saturdays were so special!  From the moment I opened my eyes and got out of bed in Morgan Hall, my blood was pumping with excitement. That feeling has never left me. I wanted to capture that feeling, put it in story form, and share it with everyone who has an interest in LR football. I hope people will have as much fun reading it as I had writing it!" 
The book is available for sale – $100 for local pickup or ordered online for $115 with shipping. Proceeds will benefit the Moretz Stadium Centennial Campaign.