Music, B.A. or B.M.
---
Music can be incredibly powerful. It can raise your spirits, inspire and empower you as an artist and performer.
At LR, you can sharpen your own skills as a musician and performing artist, while also learning how to share that skill, professionalism and passion with the next generation of musicians through transformational experiences in the classroom, concert hall, rehearsal room or with the marching band on the field.
Through weekly, private lessons with our professional faculty, you'll receive invaluable mentorship as you develop your musical skills and explore incredible opportunities.
Students interested in pursuing a music degree at Lenoir-Rhyne University have the option to pursue a Bachelor of Arts in Music, Bachelor of Music in Music Education, Bachelor of Music in Music Performance or a Bachelor of Arts in Sacred Music.
And you don't have to be a music major to be part of the program. Non-music major students sing in choirs, are employed as singers by local churches and participate in our flagship ensembles.
Request Information
Take the next step toward completing your B.A. or B.M. in Music degree at Lenoir-Rhyne University.
Get Started
Take the next step toward completing your Bachelor of Arts or Bachelor of Music in Music degree at Lenoir-Rhyne University.
Program Tracks
---
Bachelor of Arts in Music (B.A.)
A major that provides you with a general aesthetic background in the history, theory and appreciation of music. The major features a comprehensive curriculum, including courses in harmony, aural skills, orchestration and conducting. You can also select an applied area of study in instrumental, keyboard or vocal instruction, dependent upon your own interests. This particular program allows you to combine the study of music with other areas of interest, including education, theatre, family ministry, religion or business.
 
Bachelor of Music in Music Education (B.M.)
A major designed for students planning to pursue a career in music education. This program provides you with a thorough grounding in the skills and musicianship of the music educator. Upon completing the undergraduate degree, students have the opportunity to achieve Teacher Certification in K-12 music instruction in North Carolina through our Master of Arts in Teaching program, and is accredited by the National Council for the Accreditation of Teacher Education (NCATE) and by the North Carolina Department of Public Instruction. Students can choose to specialize in instrumental, keyboard, or vocal music education.
 
Bachelor of Music in Music Performance (B.M.)
This major prepares students with a performing proficiency in organ, piano, voice or any of the orchestral instruments (brass, winds, strings, percussion). Students preparing for graduate school in music or a professional career in music generally follow the performance major.
 
Bachelor of Arts in Sacred Music (B.A.)
A major that prepares you for a life of service to the church using music. Similar to a music major, sacred music has more of a focus on subjects such as hymnody, critical issues in church music and choral conducting.
Scholarships & Auditions
---
Lenoir-Rhyne's appreciation and commitment to music is evident through the many available scholarships. Students who qualify may receive music scholarships often in addition to other LR scholarships.
2023-2024 Audition Dates
November 4
February 10
March 23
April 13
Audition Process
Apply for admission to the university.
Schedule an audition.
Apply for financial aid by sending the Free Application for Federal Student Aid (FAFSA) starting in December 2023.
Prepare your audition pieces.
Formal scholarship awards are made by the Office of Financial Aid after all required forms and information have been submitted.
View Music & Talent Scholarships
Learning Outside the Classroom
---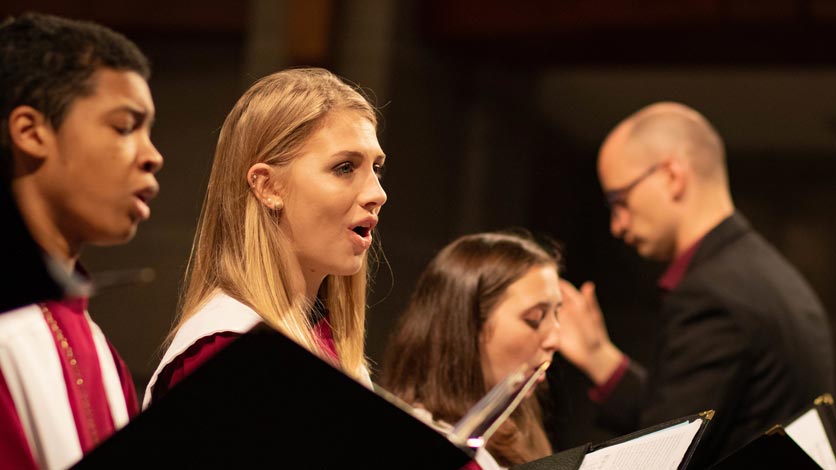 There are many opportunities for music students to participate in choirs, orchestras, ensembles and band to improve upon skills and gain valuable performance experience, often while enjoying travel opportunities regionally as well as abroad.
Continuing Education Units (CEU's) are available for participation in most music programs.
Students can also take advantage of other performance opportunities available in the community through the Western Piedmont Symphony, Hickory Choral Society, Hickory Community Theater and other theatre productions. including LR's own Playmakers.
Lenoir-Rhyne also offers numerous teaching opportunities for students through the many community programs offered to children and young adults. Students can gain valuable experience participating with the Suzuki Kids in Koncert, Carolina Kodály Institute, annual Summer Youth Music Band Camp, Lenoir-Rhyne Youth Choir and other instructional programs offered through the university as well as the community.
Career Opportunities
---
As a graduate of the music program, you can pursue graduate-level studies or choose from a number of career paths to showcase your talent and passion for music. Some of the many options may include music instruction/education, composition, performance, conducting and church music ministry.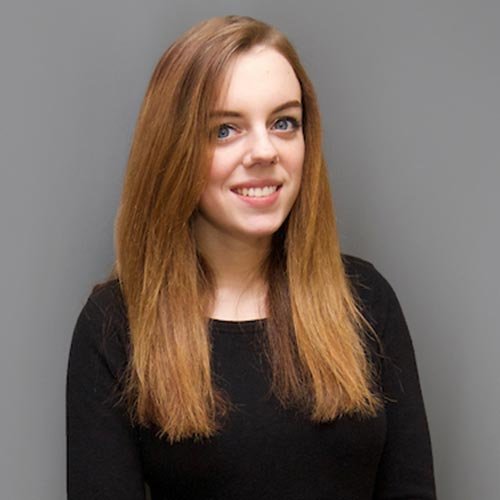 LR has great faculty, which is the one thing I love the most about the university. They understand their subject area and what they're teaching.